For the longest time, here at the lab, we didn't seem to find a need to install a copy of Windows Server 2008 R2. At last a project came our way that piques our interest. My previous experience with Windows Server core was back in 2009 when Windows Server 2008 was introduced. My recollection at the time was that it was and still is an option to choose when installing from the media provided by Microsoft. I recently discovered a download of what Microsoft is billing as Windows 2008 Hyper-v Server which I understand is Server Core with the Hyper-V role already installed. You know, you really got to hand it to the Microsoft Marketing teams for coming up with names for products. Where else could you have people stringing together names for products with 5-10 words, some numbers, to always include the standbys, "Microsoft" and "Windows" at the very least?
I installed a copy of Server Core and configured it with an IP Address and an identity on the L7TG domain. What next? I'm not a L(U)nix guy and don't like to type. Why do you think I use Windows? I started an investigation to determine what remote tools with a GUI were available for administrators.
I know that many server tools allow connections to other computers, how about Server Manager? Doing some research, I found and later confirmed that there are quite a few tasks that you cannot perform remotely by using Server Manager. All of these are in the name of "security." Here they are:
Add or remove roles, role services, and features
Configure Remote Desktop settings
Configure System Properties
Check for new roles
Change Windows automatic updating settings
Change network settings
Change the computer name or domain membership
Change Internet Explorer Advanced Security Configuration settings
Run the Security Configuration Wizard, if the source computer is a server that is running Windows Server 2008 R2
Then, I remembered a set of tools that could be installed on a copy of XP that administrators could use in a domain environment to manage servers and Active Directory. It's still there, only now it's called, drum roll, please, "Remote Server Administration Tools for Windows 7 with SP1" (RSAT). The description says that it "…enables IT administrators to manage roles and features that are installed on computers that are running Windows Server 2008 R2, Windows Server 2008, or Windows Server 2003, from a remote computer that is running Windows 7 or Windows 7 with SP1." Nice! I have a virtual with Windows 7 Professional on it, so let's give it a go.
So, the new RSAT can only be installed on computers that are running the Enterprise, Professional, or Ultimate editions of Windows 7 or Windows 7 with SP1. RSAT allows you to manage roles and features that are running on either the Server Core or full installation options of the x64-based Windows Server 2008 R2 with SP1 or Windows Server 2008 R2 operating system. In addition, remote management is also supported for some roles and features that run on Windows Server 2008 or Windows Server 2003.
Remote Server Administration Tools for Windows 7 with SP1 should not be installed on a computer that is running the Windows Server 2003 Administration Tools Pack or Windows 2000 Server® Administration Tools Pack. Remove all versions of Administration Tools Pack or Remote Server Administration Tools from the computer before you install Remote Server Administration Tools for Windows 7 with SP1.
Some things to remember: only one copy at a time of RSAT can be installed on a computer; so, remove any existing other copies including any that are in different language; and you have to remove the RSAT for Windows Server 2003 as well. You can download the bits from: http://www.microsoft.com/download/en/details.aspx?id=7887. The site contains both 32 and 64 bit executables.
Log on in an "administrator" context on the computer to install RSAT. It takes a while, nothing seems to happen and then "Finish" appears.
To complete the installation, click Start, click Control Panel, and then click Programs and Features area, click Turn Windows features on or off.
In the Windows Features dialog box, expand Remote Server Administration Tools.
Select the remote management tools that you want to install. Note, you can revisit this step to activate or deactivate a component.
Click OK.
When complete, the Administrative Tools folder of the Start Menu looks like the following. Pictured are only the links that appear in the default selection window.
One thing to keep in mind: most MMCs or tools will open a port on the Windows Firewall to allow functionality. If you are having connectivity problems, check firewall settings and make sure the appropriate inbound rules are enabled on your machines. In order to enable remote management on server core, execute this command at the commant prompt:
netsh advfirewall set currentprofile settings remotemanagement enable
Here are a few of the tools that I tried:
DNS. The DNS tool is pretty straightforward. When launched, it asks which computer to connect with. I guess that's logical since I'n not running DNS on my Windows 7  computer. One open, the interface is the same as in the DNS console on a server.
Computer Management connects to local your computer. Click Action to specify the remote computer name. You can access Disk Management, Services, Event Viewer, Performance Monitor, create and manage Shared Folders, and create and manage tasks using Task Scheduler. The only caveat is that Device Manager runs in Read-only mode on Windows Server 2008 R2.
When you launch Server Manager it offers to connect to a remote computer. You can view Roles and Features as previously mentioned, Many features in Computer Management are part of Server Manager. As shown below, you have read-only access to roles and features; however, you can start/stop services that are installed through Roles and features.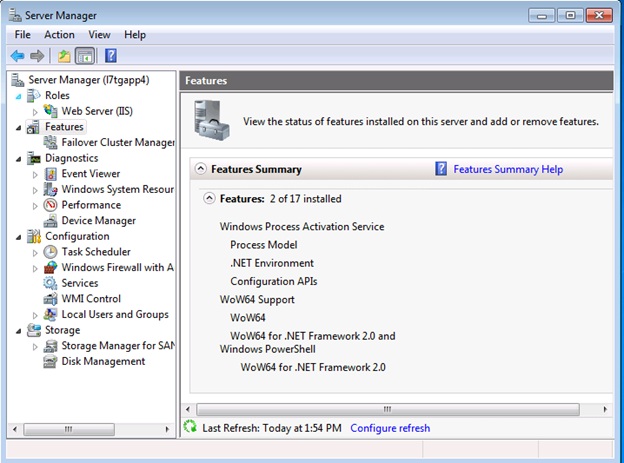 I haven't really used Best Practice Analyzer. When I found you can invoke it when you select a particular Role or feature, I was curious. As shown below, simply select the component and click on the Scan This Role link on the right.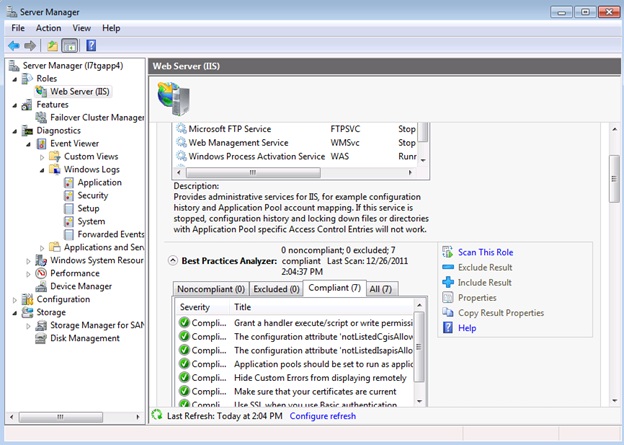 So there you have it. If you have a need for some central administration without logging on to a remote server, try out the new Remote Server Administration Tools for Windows 7. Some other alternatives are Powershell, WinRM and PSExec, part of the Sysinternals ToolKit.
This posting is provided "as is" with no warranties, guaranties or any rights whatsoever. All content is based on the author's experiences and opinions and is not intended to influence the actions of the reader.