In an earlier post, I described how to integrate Outlook 2010 with Gmail using IMAP. I described the calendar and contact synchronization and mentioned a third-party tool that's been suggested by a number of individual in forums across the Internet. The most recommended was Sync2 by 4Team Corporation, http://www.sync2.com/?pcode=803270342ci77.
Background
You can synchronize the Outlook calendar in the profile that contains your Gmail account(s) with the corresponding calendar in Gmail using Google's free calendar sync tool which I covered in this post: http://level7techgroup.com/blog/?p=389. The tool works fine; however, Google didn't appear to have a convenient solution for keeping contacts synchronized. After a brief search, I decided on using the Sync2 product from 4Team Corporation. The product will synchronize profiles among multiple PCs using a USB drive, a file share or FTP or the 4Team service. It will also share calendar and contact information directly with the Google services. A free trial download is available at http://www.sync2.com/Download.aspx. A single license is available for $39.95 USD. You can check the site for their price for multiple copies. Sync2 runs on a computer running Windows 7, Vista, XP. 32-bit or 64-bit editions; Microsoft Outlook 2010, 2007, 2003, 2002/XP (32 bit and 64 bit editions). There is a Demo video on the site which explains the installation and synchronization setup.
Installation
Click the Download button on the web site. Your browser will prompt you to save or run. Choose run since saving will only places stub installer on your computer. Clicking that has the same effect as running the program directly. The Setup wizard will ask you for a Synchronization ID or will create one for you. You need to create one when synchronizing Google Calendar/Contacts. Click the button for "I don't have a Synchronization ID." Another screen will ask you to select Calendar, Contact or both. Next, provide the Gmail account log-in credentials. You're almost done. The Advanced tab will configure how the program connects to the Outlook Data File.pst that is created in My Documents\Outlook Files. Remember, this file is the container for the Outlook profile's calendar and contacts folders. I found that if I had multiple profiles defined, the program could only find the first file in the folder. That completes the installation and setup.
Settings
By default, the program will synchronize each calendar or contact connection every 15 minutes; however, you can choose a number of schedules or set it to manually synchronize as shown below.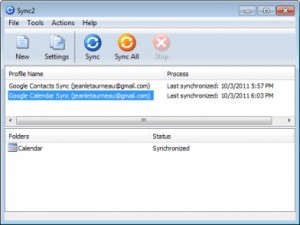 You can also set filters on each of the connections to exclude or include Outlook categories. This is shown below.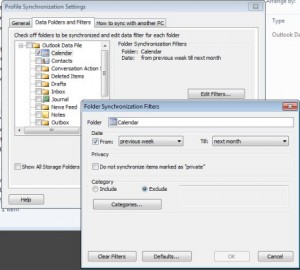 Recommendation
If you find yourself adding contacts frequently from the web or in Outlook then I would recommend investing in this program. The manual processes described in my earlier post are just too tedious to be sustainable and are prone to error and duplicate creation. In addition, you also get an integrated tool to keep both calendar and contacts synchronized.
Additional Information
eHow
http://www.ehow.com/how_6775657_sync-gmail-contacts-outlook.html
CompanionLink
http://www.jakeludington.com/outlook/20090812_sync_outlook_contacts_with_gmail.html
Google Contacts Outlook Synchronizer
http://www.blogsdna.com/5191/sync-gmail-contacts-with-outlook-using-google-contacts-outlook-synchronizer.htm
This posting is provided "as is" with no warranties, guaranties or any rights whatsoever. All content is based on the author's experiences and opinions and is not intended to influence the actions of the reader.